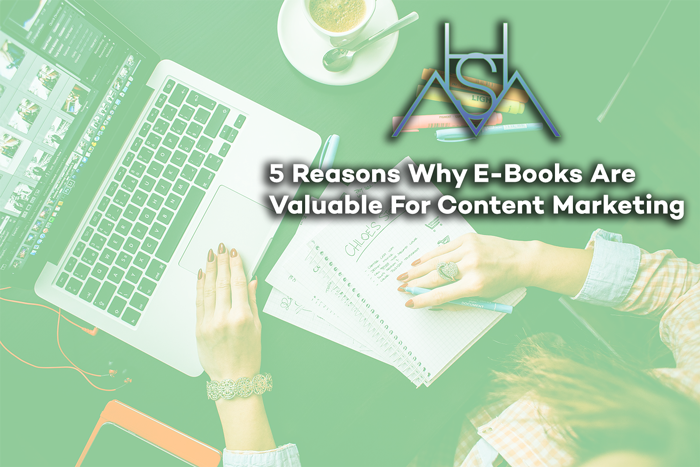 A very popular approach to Content Marketing in modern business industries is the E-book.  As the name suggests, it is the electronic version of a traditional printed book and a key component to its popularity is due to its ability to spread complex information throughout the E-book in a strikingly easy and digestible manner.  Compared to other forms, this is a detailed version of the marketing strategy.
Here are 5 reasons why E-books are valuable for your content marketing:
Educating Buyers: As E-books are comparatively longer forms of content, they are great in educating buyers by giving all detailed information and descriptions about topics and fields relevant to them and your brand.
Building Trust – When buyers get detailed information and education about a particular product, service or brand, they are more comfortable with engaging in conversation on what your business has to offer.  This goes a long way when building complete trust on that particular product, service or brand.
Larger Platform: Compared to other forms of Content marketing, E-books provide a larger space to launch into other products or services your business has to offer. The E-Books becomes a launching pad that can transform and accommodate a large number of different content relevant topics, products or services for the marketing of your brand – much higher than any other digital marketing.
Boosts SEO: E-books go a long way in helping you for Search Engine Optimization as it makes content searchable.  It increases the potential for increased visibility and ranking as it is embeddable into your site or other sites.  This is extremely helpful in gaining a large number of traffic for your business and landing pages.
Creative presentation: Through E-books, you can demonstrate expertise in a creative way that becomes much more visually appealing than your basic book, while providing more comprehensive information than an infographic.  E-books assists you in shaping the content with your ideas and personal touch in a user-friendly fashion. This aids in engaging your target audience for giving them dynamic and relevant information.
If you're looking for wonderful and creatively approachable content, visit us at: www.hamiltonssocialmedia.com.  We are a team with great level of expertise and experience that can help you create killer copy and design content for Digital Marketing, including E-books and various other innovative and creative methods.